Our staff's commitment to you
We understand how difficult it is to lose a loved one. Our compassionate and caring team's commitment to you is to work hard each and every day to make sure that the members of our community and beyond are taken care of during such a difficult time. For advice on what to do when a loved one is dying, making funeral arrangements, pre-arranging your own funeral, or anything else, please feel free to contact us.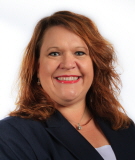 Mandy Caceres
Licensed Funeral Director
Mandy@PalmettoCremationSociety.com
Mandy grew up in the South Carolina Midlands, and can remember answering the phones for her family's business, Wilbert Vault Co. as young as 10 years old. She followed the family business to Charleston in 1997 and worked for a number of years fostering relationships with area funeral homes and families. She left the deathcare industry briefly to pursue a career in marketing, but decided to return to funeral service in 2013, when she joined Palmetto Cremation Society as a Funeral Director Apprentice. In June of 2015, she became the Licensed Funeral Director for Palmetto Cremation Society. It has become her passion and her mission to serve families with affordable direct cremation. A busy mom, Mandy lives in Summerville with her husband and large blended family.